Introduction
MIK-R9600 paperless recorder is the latest multi-function recorder. Supports up to 18 channels of analog signal input and has alarm communication functions. It is suitable for use in equipment and unit projects. SUP-R9600 supports function development.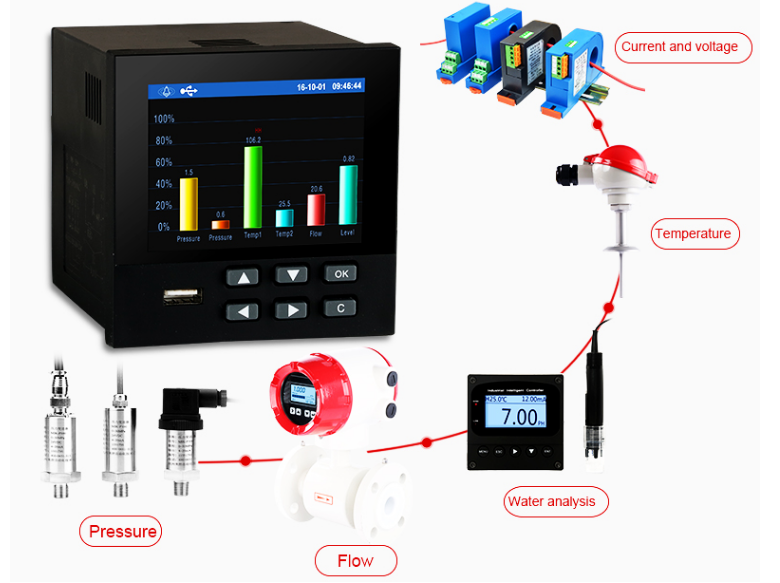 Specification
 Product
Paperless recorder
 Model
MIK-R9600
 Display
3.5 inch TFT true color LCD screen
 Dimension
Dimension:96mm×96mm×96mm
Opening Size:92mm×92mm
 Thickness of mounted panel
1.5mm~6.0mm
 Weight
0.37kg
 Power supply
(176~264)VAC,47~63Hz
 Internal storage
48M bytes Flash
 External storage
U disk support (standard USB2.0 communication interface)
 Maximum power consumption
20VA
 Relative humidity
(10~85)%RH(No condensation)
 Operating temperature
(0~50)℃
 Transport and storage conditions
Temperature (-20~60)℃,Relative humidity (5~95)%RH(No condensation)
Altitude:<2000m,Except for special specifications
Advantages
Basic Functions
• Up to 18 channels of universal input
• UP to 4 Alarm Output Relays
• With 150mA Power distribution Output
• Communication type: RS485, Modbus RTU
• With a USB data transfer interface
Display & Operation
• Multiple display Function :choose the display your way
• Use date and time calendar search functions
to Review historical data .
• 3.5 inch TFT color LCD (320 x 240pixels)
Reliability and Security
• Dust- and splash-proof front panel
• Power Fail Safeguard:All the data stored in Flash memory,
make sure that all the historical data and configuration parameters
will not lost when power fail. Real time clock power supply by lithium batteries.